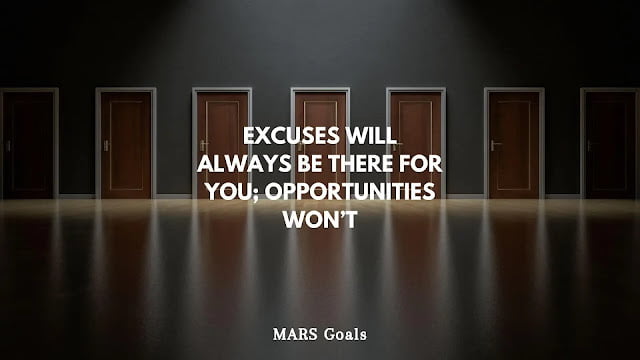 EXCUSES WILL ALWAYS BE THERE FOR YOU; OPPORTUNITIES WON'T
Opportunity doors are always open for us in life; if you make an excuse for yourself, the door will close. There are many opportunities and many people are eager to take this, if you excuse other people. People frequently claim that they cannot, do not like that those people have to build their own opportunity doors. You can choose an opportunity or an excuse.
The creative story about this quote:
One of the senior lawyers in a city has won more cases. If he takes any cases, opposition lawyers are always calm and do not argue more to him, Even if his client really does the crime, because he is more influential among others. For instances based on the crime, he demands more fees. He represents several powerful people's families as well and he also has several junior lawyers, but he does not treat them with respect. He does not even provide the juniors one case while taking on additional work from them.
Adam is the name of a junior lawyer who is a relative of the senior. He therefore gives him a few minor cases, but he declines to take them because he works as a lawyer for parents' persuasion. One of the most successful businessmen in Adam's city is his father. Adam's lifestyle has been so opulent since he was a child, which accounts for his constant rudeness and lack of endurance. He made numerous excuses for his absence from class, which negatively impacted his exam results.
The inability of the school administration to discipline Adam because of the influence of his father has caused misunderstanding among the administration. Because Adam did not study properly  and unable to tell his parents since they have the erroneous impression of the school. He therefore continues to grow in that manner. When Adam's father knew of his character one day, he sternly ordered him to go to job, and made a deal with him that, should Adam not succeed, all of their property would be donated to charity. Sadly, he successfully completed his legal studies. Adam's father asks the senior lawyer to select one of them as a junior. He joined him as a junior in that way.
After a time, Adam's parents died in an accident, and their property was donated to a charity because Adam had not yet achieved success. One day, his luxuries were gone. The senior lawyer fired Adam because he had no interest in his profession. And since Adam's father had already passed away, the senior had no issues. Adam requested his senior, but he did not accept his request. He has no other options because he is only aware of working as a lawyer. Due to his frequent failure to take advantage of possibilities presented by the senior lawyer. He lacks experience and the support of other lawyers.
The richest man has suddenly become poor since he has nowhere to live, no money, and no work. We don't know what will happen in the next minute. Don't say excuses, excuses always give you satisfaction, but it for short term. If you have the opportunity, it will take some time until you feel satisfied, but the benefits are long-lasting. You can decide, if you want excuses or opportunities.