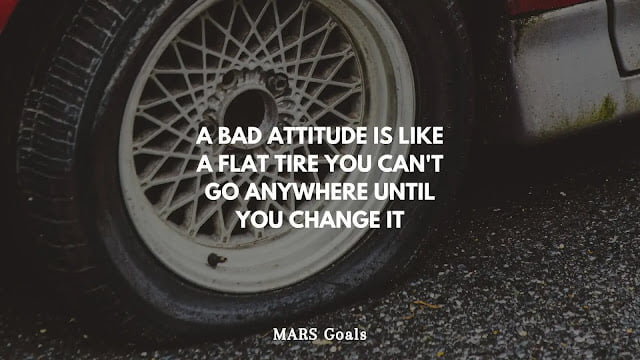 A BAD ATTITUDE IS LIKE A FLAT TIRE YOU CAN'T GO ANYWHERE UNTIL YOU CHANGE IT
A negative or negative attitude affects your life like hold us back from progressing and achieving your goals, much like a flat tire. Maintaining a positive view and frame of mind in order to advance and create progress. We may overcome challenges and get the results we want by changing your mindset and adopting a more positive view. The value of having a good outlook on life and the necessity of taking proactive steps to control our thoughts and emotions.
The creative story about this quote:
A man named Raja has had a bookstore in a city for many years. He uses some of his savings to buy a new bookstore that is situated far from his previous one. As a result, he appointed his father to run the new store as a storekeeper. After a year, he purchased a new store. His father doesn't know how he acquired the new store. Because he spent more money on branded watches, clothing, and other items. The father is aware that he has saved money to purchase the second store, but he is unsure of how he purchased the third.
Raja asked his father to manage the new store, but the elder man declined. His father is eager to help, but he is not willing to contribute for unfair business. Raja questioned by his father about how he paid for the new store, but Raja refused to be honest. Raja had no other choice but to appoint someone to manage the new store after it had been closed for a number of days, Jack, a recent graduate, was given the job. Jack was to complete his studies and try to find a new job, the store is near to the Jack house, so he decided to join here, in the meanwhile he try to find another job as per his qualification.
Jack joined that job for a low salary, thus he is looking for another job. But Jack has been searching for a new job for some months. He provides his friends and family with his resume so they can give it to their employer. Raja went to the store one day. Jack gives his resume to someone, Raja doesn't know how to react. He silently enters the shop like he doesn't see anything, but Jack knows Raja sees that. Raja arrived at the store to pay Jack's salary for that month. After giving the money, Raja stated that he would be raising it the following month and enquired as to how much did you expect  Jack said some money and Raja smiled and left from the store.
Jack believed Raja would give that amount in the following month, so he chose to work there rather than look for another job because the other positions that matched his qualifications were not located close to his city. So he has to live and work in a different city so that his costs will increase. That much money has arrived in his city, which is fantastic for him because there are no longer any bills to pay for, allowing him to increase his savings for the future. After a month, Raja returned to the store and gave the same salary, explaining that this month was a financial hardship and that beginning with the following month, i will pay you a reasonable salary. Jack can comprehend the scenario because he works in the store and is aware of Raja's earnings.
Jack received a job offer in the meantime from a friend. But Jack did not accept the offer because it was located outside of his city. Raja visited the store the following month and gave the same salary, adding, "In one, we received a huge order, therefore we gained more profit.
Then, I will give you the remaining salary." Jack believes Raja because he is aware of the order as well. Jack works on that order day and night. The order was delivered successfully, and Raja made a huge profit. Jack expected Raja to give him more money, but instead, Raja gave him a very small amount. He asked Raja to give him a reasonable amount, but Raja refused and began outlining his costs, saying things like having to care for his family and maintaining three stores. Jack is conscious of lying.
After becoming irate, Jack decided to leave his position the following day and informed Raja of his decision. Raja is unwilling to terminate Jack because he has no other ways to keep the store working. Jack didn't believe Raja when he claimed, "I surreally provide you more salary from the month." Jack quit his job, and the following day Raja went to Jack's house and told him to come back to work or else I will file a lawsuit. Raja believes he is scared and he will come back to job. But Jack did not provide Raja with any written promises. Jack was not alarmed by this and did not return to the store.
Raja has to hire someone for the store, but no one comes to work there because of the low salaries, and everyone in the city knows Jack's story while he works there. Raja decided to close the store till a position filled. This resulted in a decrease in his income. As his father ages, he too returns from the store. As a result, his income fell even further. Due to the conditions, Raja became irritated and lost focus while working, which led to the loss of the last store.
We should always treat people with respect and refrain from lying to them. Money will come and go, but other people's perception of you won't change. A bad attitude is like a flat tire you can't go anywhere until you change it.