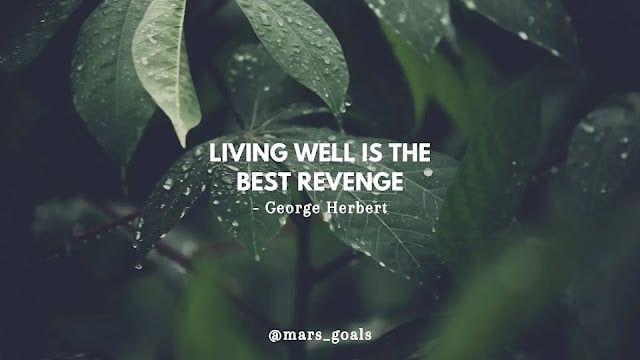 LIVING WELL IS THE BEST REVENGE – George Herbert
Living a joyful and satisfying life is the best revenge method to get payback or to overcome negativity or hurt. The significance of putting our own pleasure and wellbeing first rather than aiming for revenge or retaliation. We can overcome negativity and hurt and discover peace and fulfillment by leading a fulfilling life and being pleased with ourselves and our surroundings.
A creative story about this quote:
There is a one-millionaire in a city who has a son named William. Because William is innocent, they are all easily duped. The millionaire didn't like William because of this. William's friends cheated him out of a large sum of money. His affluent father gives him additional guidance, but William continues to make the same mistakes because he is innocent. He is unable to distinguish between what is wrong and what is correct.
The millionaire wanted to change William's character. He bought a textile shop for his son and told him how to manage it properly. One day, the millionaire went to the shop to buy a shirt. He took the shirt and went to the bill counter, where he saw another person. The millionaire says to the person as I take the shirt and see you again. He did not pay the charge because he owns the firm. The person behind the counter asked him to pay the bill. The millionaire thinks he has no idea who I am. He says this is my son's shop and I don't want to pay the bill. The bill counter person says as I am the owner of this shop. I bought the shop two weeks ago.
The millionaire realizes William has sold the shop at this point. That money was given to William's friends. After losing money for his entire company for a month, the millionaire's factory finally shut down. For a financial settlement, he sold his own home. The millionaire and his son William have moved out of their home and are staying in a rented home. They don't have enough money to pay their rent and eat for the next month. They are willing to do any type of task for money. William requested that he deliver some money to his friends, but they declined. William loses when he realizes the importance of money.
While William looks for work, the millionaire takes a job as a cook in a restaurant. However, William did not want to send father to work. But they don't have any other options for surviving. William eventually found work as a sales manager. As a result, he tells the millionaire to quit going to work. However, the millionaire does not stop working because he doesn't want to spend the entire day at home. When William went to the restaurant to eat, he noticed that the restaurant's cook was his father, a millionaire.
William did not ask anything in the restaurant. After both of them reached home. William scolds his father, because he was already told not to go to any work. After a few months, William decided to open his own textile shop. The shop grew in popularity, and he bought a new home. He became a millionaire after a year. The cheats, on the other hand, are all in the same situation. If someone deceives you, do not deceive them again. You want to live well, it is the best revenge for them.